We provide the most luxurious services
Hotel Sunshine Haridwar, We are committed to our visitor that they will get the best services in our hotel. We are top hotel services and accommodation services provider in haridwar near har ki pauri. In our hotel every traveler feel like heaven. Our Hotel is located near railway station and bus station haridwar. Hotel Sunshine is the most centrally located hotel, Situated in the Moti Bazar which is near har ki pauri, Haridwar. Just 70 meter walking distance from famous Har Ki Pauri & 30 Meters from other Ganga Ghat.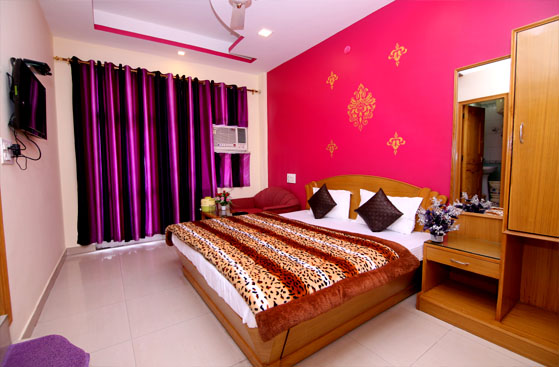 The Hospitality trade is the main stay of a large segment of society. In recent times however, the need for world class amenities has pushed the organized sector in Hotwiring to the fore and Hotel Sunshine can boast the total hospitality services. Hotel Sunshine is one of the most popular hotel in the town and is designed to cater to a cosmopolitan clientele. Hotel Sunshine takes pride in offering its guests a peaceful and tranquil heaven. The perfect retreat for visitors and business travelers alike. Hotel Sunshine too much effort to make guests feel comfortable, it come naturally. At Hotel Sunshine you experience India's true tradition in its most modern ways. Guests have turned to Sunshine for quality service, distinctive cuisine and all round excellence. Make a concerted effort to please our guests with unsurpassed service, luxury, entertainment and conveniences.

The entire staff of Hotel Sunshine strives to maintain this level of superior service. From the second you check in to the moment you check out, you'll experience our dedication to excellence first hand. And this commitment has paid off time and time again the form of acknowledgments and awards. Hotel Sunshine carefully designed with flexibility in mind, with unique air conditioned Conference Rooms, versatile Syndicate Suites, and magnificent dining and entertaining facilities, The Hotel is extensively equipped to satisfy a wide range of Conference & Banqueting requirements. We make sure Hotel makes your time in Haridwar even more memorable. You will notice an attention to detail only possible with family ownership and operation. Make a concerted effort to please our guests with unsurpassed service, luxury, entertainment and conveniences. Hotel Sunshine always a pleasure to provide guests with all amenities at finest downtown hotel of Haridwar.
---
The sunshine hotel, located near har ki pauri haridwar this is the only central hotel which is also very short distance from railway station haridwar Uttarakhand.

This hotel have elegant furniture which is designed by the Italian furniture maker.

Hotels Sunshine offers the convenience of meeting space, restaurant eating and inside the room you can use Wi-fi Internet connection services, hotel room service is awesome you can call the room service and get everything in your room.

This all kind of service makes us the best hotel in haridwar.